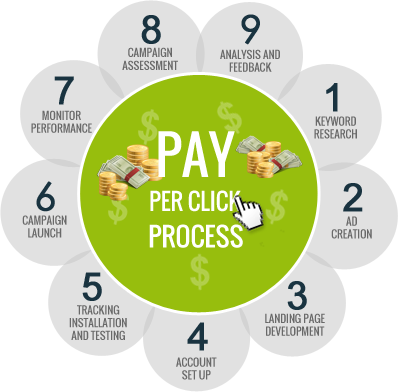 Being present in every moment and move scenarios where our potential customers is a key to success. For short-term results, the pay per click is what you need.
Pay Per Click is based on defining a budget for a set of keywords that is likely to be searched by our potential customers, search engines and pay only when a user clicks on ads related to it. Since the cost of each word is determined by a bidding system where other players "bet" the same word, it is extremely important to have accurate knowledge for the selection and subsequent monitoring of key terms, in order to obtain the best relationship between the value of the keyword and the number of visits to our website that it can generate.
This method will give your website visibility in the short term, because the positioning is accomplished by pulling the strings of the bid and does not require waiting for the slow natural process of indexing and search engines that assessment is carried out for organic results, but the positions are determined by a level of quality that attaches the form taking into account among other things: the quality of landing page for the keyword ( landing page), the quality of the advertisement as such (copy) The historical account and skills to perform the allocation of budget for each keyword.
We will determine with you if such a SEO is relevant and what it might bring you. One can indeed calculate the average cost of acquiring a visitor of assumptions that are confirmed with actual data. This reflection supports decision -making on campaign budgets Internet marketing duration, depending on the objectives and outcomes (eg. The average amount of a shopping cart or transaction, online or not), taking into account of course, the model Business preferred.
For purposes of analysis, it is essential to collect relevant data (if not already ), using a tool such as Analytics on the behaviour of Internet users who visit your site, with for example:
Bounce rate (% of Internet users who leave the site immediately upon arrival)
Conversion rate (% of Internet users who complete a task or process)
Pages visited (or not …)
Play time
Search engines used etc.
IT Infosoft not only facilitate the process of identification and selection of key terms that best suit your business, but also offers constant monitoring and optimization of such terms as part of a campaign of fixed duration, and the investment best suits your needs.